A simple way to
manage
deploy
monitor
your servers
FlashVPS has a free one-server plan, sign up for a trial now!
No credit card required. Cancel anytime.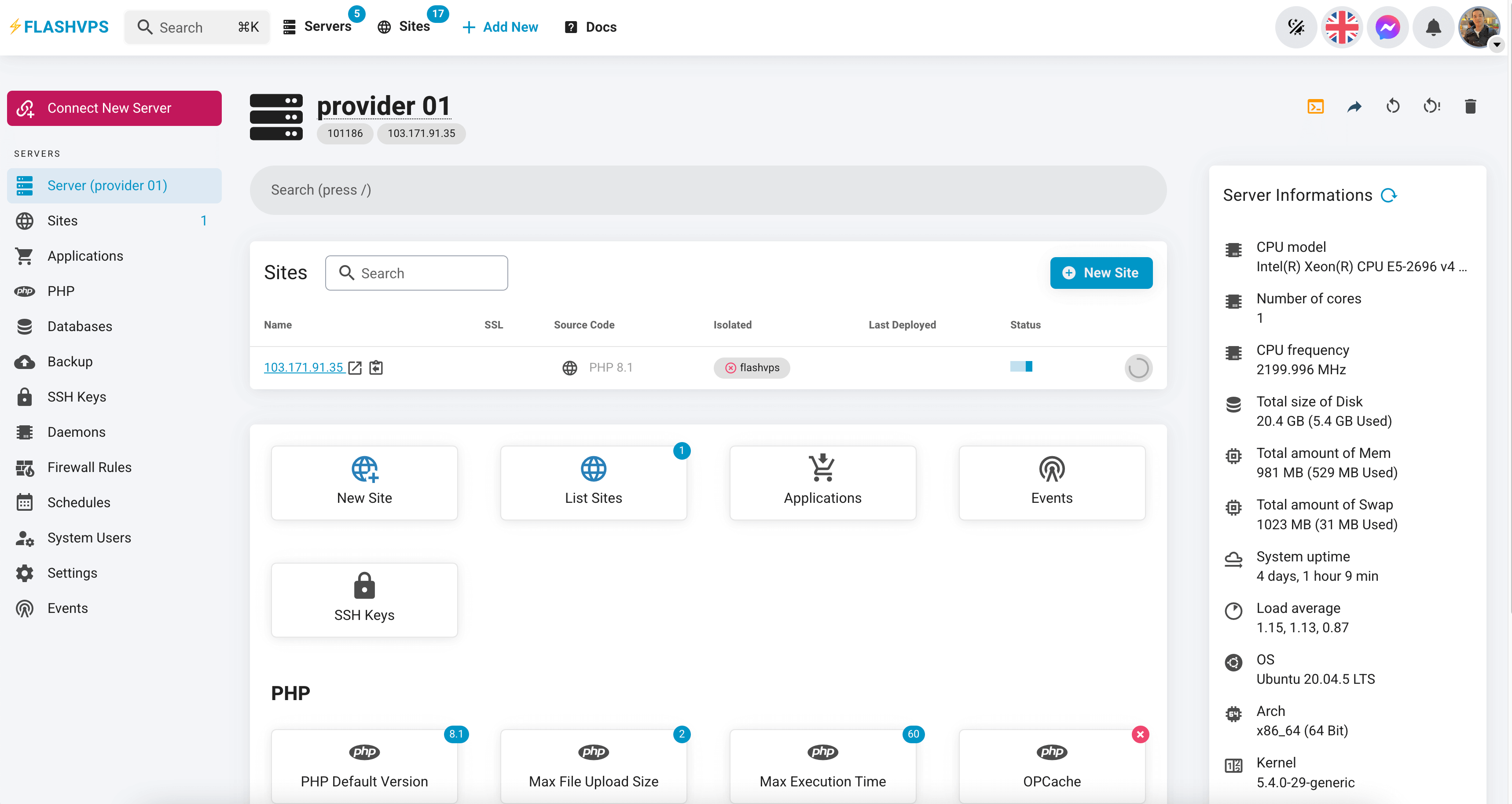 What does FlashVPS have?
Easy installation
FlashVPS sets up your server in minutes, so you can manage it with ease. It installs all the software you need, including Nginx, PHP, MySQL, Redis, and more
Rapid Deployment
FlashVPS makes code deployment a breeze. Simply push your code to a Git, and FlashVPS will take care of the rest automatically
Professional monitor
Rest assured, our 24/7 real-time monitoring will instantly notify you via multiple channels if your website goes down
Free SSL certificate
FlashVPS makes it easy for you to get free SSL certificates from LetsEncrypt or ZeroSSL, with just a single click
Queue Management
FlashVPS makes it easy to manage queues and monitoring without having to manually configure Supervisor
Multi PHP Version
FlashVPS ability to install multiple PHP versions means you can host websites with PHP versions from 5.6 to 8.2 on the same server
File Manager
A blazingly fast and lightweight file manager that supports multiple accounts, compression and decompression, and online editing
Automated Deployment
With a simple push to Git, your new code will be automatically deployed using your configured script, without any further action required
App Store
A central repository for hundreds of web applications that are easy to install, including Redis, Docker, Elasticsearch, and more
Website quarantine
FlashVPS isolates websites to prevent malicious code from spreading between them
Teams Management
Manage multiple teams, each team has its own server, you can easily manage multiple websites with multiple teams
Save Time
Concentrate on website development while FlashVPS takes care of server management, freeing up your time and reducing development expenses
We Have Built This Site With Easy Servers Management In Mind
FlashVPS is very pleased to serve
Choose Pricing Plan
We offer a 100% money-back guarantee
FAQ
What is FlashVPS?
FlashVPS is a remote server management service, with your consent, we manage the server on your behalf, install, configure, monitor, deploy source code, backup data, and order dozens of other features we are developing to serve the needs of users.
How is FlashVPS different from other panels?
FlashVPS is a remote server management service, so it doesnot take up your server resources.
How about FlashVPS compared to services in the world like RunCloud, Forge, Ploi,...?
In terms of features FlashVPS will fully meet the features that services in the world have.
Will FlashVPS in the future support mobile?
We have a plan to start developing mobile apps that support both iOS and Android in the next 6 months
Does FlashVPS support server data backup?
Yes! We support users to back up server data to Google Drive, OneDrive, Dropbox and your own backup server
Does FlashVPS have API support?
Yes, we will provide the documents to you soon
Have Question ? Get in touch!
Ask us anything about our product.
FlashVPS là một dịch vụ quản lý máy chủ đám mây cho phép bạn duy trì toàn quyền kiểm soát các máy chủ của mình và triển khai, vận hành nhiều trang web với cấu hình nhanh chóng và dễ dàng.
Với FlashVPS, bạn không cần phải là một chuyên gia Linux để triển khai, vận hành trang web của mình, FlashVPS từng bước hỗ trợ nhiều nhà cung cấp máy chủ trong nước và nước ngoài như Vultr, (DigitalOcean, Linode Google Cloud,...) hoặc máy chủ của riêng bạn.
FlashVPS hỗ trợ tất cả các ứng dụng web PHP, bao gồm WordPress, WooCommerce và Laravel.
Hiện tại FlashVPS trong thời gian dùng thử không có GIỚI HẠN TÍNH NĂNG nào, bạn có thể kết nối các máy chủ và tạo các ứng dụng web không giới hạn.